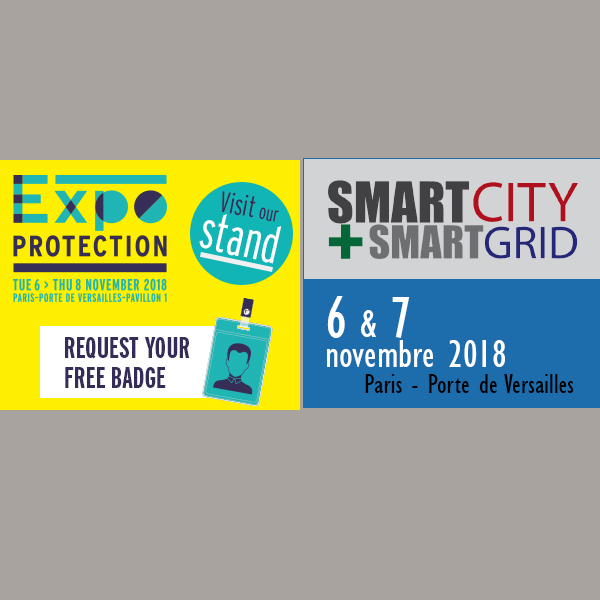 Our trade shows in November
In November 2018, IFOTEC will be present at two major trade shows in Paris – Portes de Versailles.
1 – IFOTEC will be present at Expoprotection exhibition

Our expertise in the field of secure optical fibre transmissions and our capacity for development and innovation have enabled us to be a recognised partner of different major operators involved in Defense, Energy, Transport and safety activities.
For your safety and security needs, visit our booth B 105
We will present our fiber optic solutions for Ethernet networks and for other types of signals: video, audio, telephone, TOR / control command, 4-20mA, …
2 – IFOTEC invites you to SMARTCITY + SMARTGRID
Visite our booth H 08B
and discover IFOTEC solutions in the CREDO area.
Join us during the SMARTGRID + SMARTCITY event that will be held in conjunction with IBS (Intelligent Building Systems).
We will present in operation our GTCFibre solution:
– Remote management of public lighting cabinets and extension of services to the local authorities from this same cabinet (new uses).
But also representative solutions of the applications that we can cover:
– Very high-speed broadband coverage of territories up to Gbit/s for companies (FTTO) and individuals (FTTH): CPEFibre solution, subscriber modules with 100Mbit/s or Gbit/s access and adapted functionalities.
– The activation of networks: Solution of mutualization for business parks (access FTTO/ Fast Ethernet),
– The operation of the networks: GTCFibre solution for monitoring network nodes (POP, NRO, BTS) and operating systems
– Security: new Gigabit Ethernet switches over optical fibre with or without PoE, modular and administrable for IP networks.
GTCFibre solution: IFOTEC is at the heart of SMARTGRID